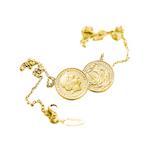 Caring for a Coin Necklace
Your beautiful Sparkling Jewellery Coin necklaces are plated with rhodium (part of the platinum family) or real 22ct yellow gold or 18ct rose gold.  The metal (brass or alloy) has is nickel free and the content is the current European norms and tested for nickel allergy.  It is finished by hand with great care.  It is not meant to be worn 24/7 just as you wouldn't take a shower or go to the gym in your favourite outfit.  Moisture and chemicals might spoil its colour and finish this includes perfume, body lotion, suntan cream, swimming pools, saunas and fake tan.
To help maintain your necklace we do sell specialist polishing cloths at a small charge, these are the best thing to keep a high shine and help resist tarnish.  Please make sure you keep it dry and store in a dark place.